Chapter 10, People Experiences
Ch 11 People A-B, Ch 12 People C-F, Ch 13 People G-H, Ch 14 People I-L , Ch 15 People M-O, Ch 16 People P-R, Ch 17 People S, Ch 18 People T-Z, Ch 19 Deceased, Ch 20 They Flew, Ch 21 Anecdotes, Ch 22 Oral Interviews, Ch 29 Indexing
1.0 Introduction
Our Legacy theme consists of People at Locations in Minnesota who Engineered Computers and Systems used throughout the world The sub-tabs contain the 'career summary' stories submitted by many former employees and a few system users; see section 2 below. Other tabs contain personal tidbits submitted by former employees writing about other individuals with whom they had worked.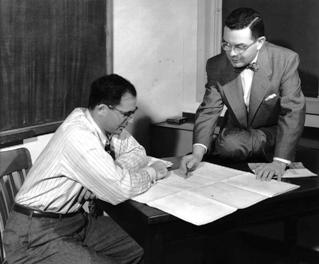 Shown here are Erwin Tomash and Dr. Arne Cohen in an ERA office, circa 1948 - Tomash is credited with being a founder of the Charles Babbage Institute. Cohen was a co-inventor of the magnetic drum - the world's first computer hard drive.
The Legacy Committee welcomes any new 'career' summaries or comments about any already posted herein. As of Dec. '21, we have 191 Career Summary/Life Story Submittals including the deceased chapter plus five in Section 3 below - thus still need NINE to meet our goal of 200. A few people have both written summaries and oral/video recordings however are only counted once Those career specific stories do not count the ~300 project/program/product stories in other chapters of this anthology, i.e. some stories from former Blue Bell employees are in chapter http://vipclubmn.org/BlueBell.html.