Chapter 50, Our Computers
Ch 51 24-bit CPUs, Ch 52 30-bit CPUs, Ch 53 18-bit CPUs, Ch 54 16-bit CPUs, Ch 55 32-bit CPUs, Ch 56 36-bit CPUs, Ch 57 AF Units, Ch 58 Special Purpose, and Ch 59 Commercial Line(s).
1. Introduction
The computer chapter tabs are arranged by bit length, most of the machines within a bit length share an Instruction Set Architecture (ISA).
Our computers span several technology generations: Vacuum tubes, magnetic logic circuits, transistors [germanium then silicon], integrated circuit Diode Transistor Logic (DTL), Transistor Transistor Logic (TTL), and Emitter Coupled Logic (ECL)], followed by Application Specific Integration Circuits (ASIC) then embedded microprocessors as technologies evolved.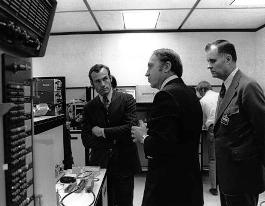 This 1975 photo shows CA Congressman, Barry Goldwater Jr. listening as Engineering Manager, Marc Shoquist [center] explains computer technologies in front of a 1219 computer. General Manager Dick Seaberg [right] watches.
Memory technology generations in our computers evolved from magnetic drums through magnetic core, deposited film, plated wire, core rope, MNOS, CMOS RAM and ROM, and EEPROMs - read more in our Memory chapter.